The Cleverness Biannual
A limited edition independent magazine venturing beyond conventional wisdom.
Thoughtful provocations for the quietly dissatisfied.
Issue Ø explores the paradox of clarity/ambiguity.
240 x 195mm | 150 pages
Limited edition print run.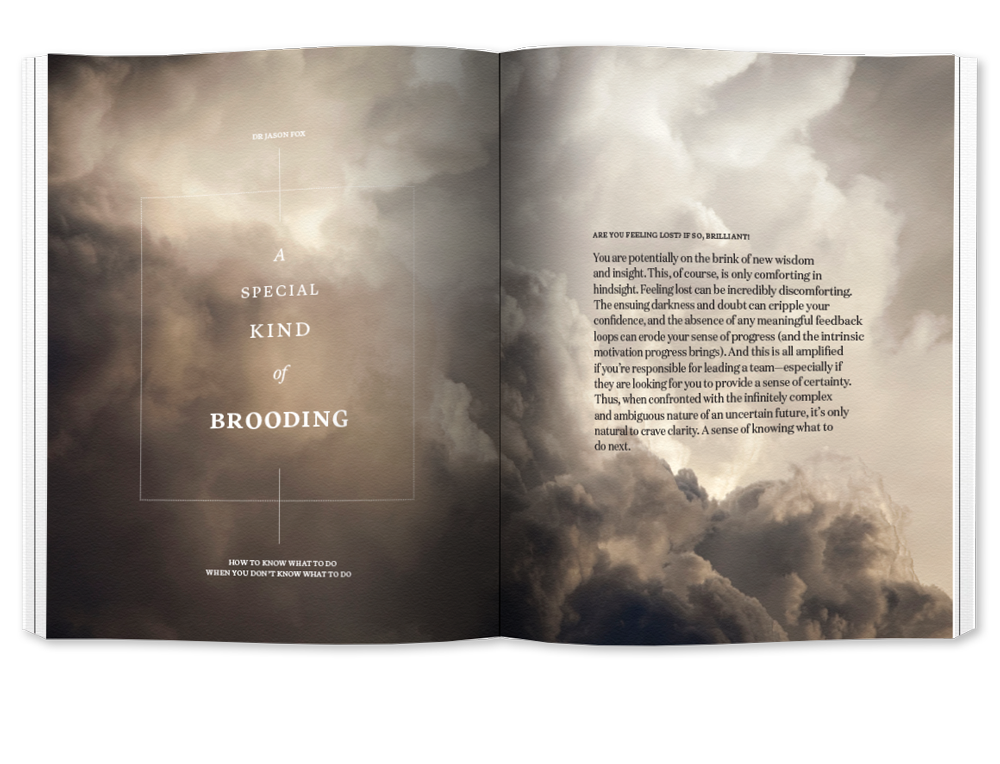 An independent magazine venturing beyond conventional wisdom.
The Cleverness Biannual actively seeks complexity and ventures deep into philosophical paradox. It explores the darker elements of pioneering (an often lonely journey), providing a fuller spectrum of perspective outside of the success stories and hero-worship.
Be it business, philosophy or artistry, The Cleverness Biannual relishes in the hidden or overlooked. Inside: Art, poetry, tasting notes, and evergreen essay contributions from a carefully chosen mix of people whose minds captivate our own. These are thought leaders, artists, executives, purpose-driven leaders and other curious, kind and eccentric individuals from around the world.
Inside Issue Ø:
How to know what to do when you don't know what to do: Dr Jason Fox
Why the only problem with uncertainty is the way we keep struggling to avoid it: Oliver Burkeman
Between Observer and Observed: Amanda Gefter
Navigating Uncertainty: Alison Randel
Reflections on the limitations of clarity from a long-term meditator and reformed management consultant: Rohan Gunatillake
China, relationship-based culture and the future of work: Qing Qing Chen
The Paradox of Pioneering: In conversation with Dominic Price
An introspection on the Quite Clearly Ambiguous: Dougal Jackson
& more...